Our aim
To raise funds to buy food to feed the children a bowl of stew every afternoon and increase literacy in the Redhill community.
Redhill Literacy & Food Project is registered with SARS as a Public Benefits Organisation (PBO). We are therefore delighted to be  able to offer companies a Section 18(A) certificate to deduct any donations to our project from their tax.
(Picture shows kids at the Christmas party getting their gifts and cup cakes). 
Our Mission
To improve literacy amongst the children and the adults of the Redhill community and provide one meal a day for the children after school so they can concentrate on their homework.
Literacy
We have volunteers working within the library every afternoon during term time helping children and adults with various tasks on the computer, maths, reading homework whatever they can help with.
Food Project
We make a big pot of stew for the children after school. The children come and eat then do their homework. It is essential and sometimes this is the only meal for the whole day that the children have.
Our Impact
We are very proud to say that we are currently teaching and feeding 90 kids, 6 days a week. We have also built a library with computers and access to the internet that is taken care of by a librarian.
Our Partners
We are lucky to have the local restaurants support us to fundraise and a local community supports us with the Christmas gift packs. Thank you!
"90 full tummies leads to 90 happy learners"
- BUYISWA PONTI, Founder of RLF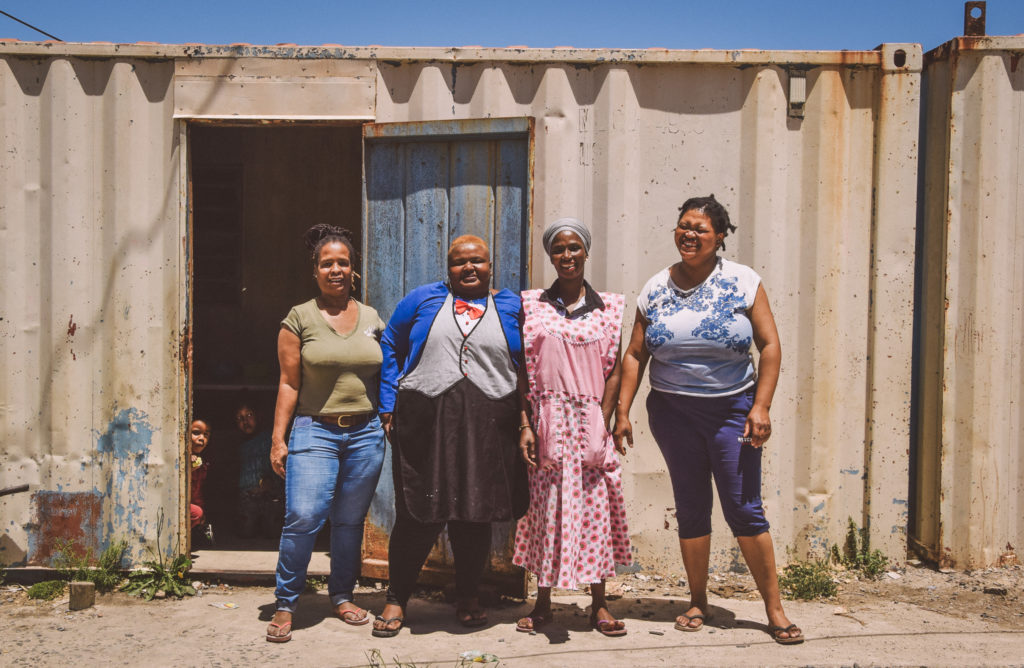 Our Beginning
Redhill Literacy & Food Project is a Non-Profit Organisation founded in 2013 by a Redhill resident - Buyiswa Ponti.
Redhill Literacy & Food Project was formed to help the children of Redhill to improve their levels of literacy. Since then the project has extended its help to the adults in Redhill, again to help improve their levels of education. We started a feeding initiative in 2014 as we realised that trying to teach children when they are hungry and undernourished is difficult. In 2014, Buyiswa Ponti, the founder of Redhill Literacy and Food Project, won South African Leadership Award for this initiative. 
Today we teach and feed about 90 kids, 6 days a week. Recently we held an end of year celebration at our Library and one of our volunteers made a video:
As you can see Redhill is classed as an informal settlement. It is a very deprived and poor community. The nature of an informal settlement is it's a temporary area, no brick houses and no tarmac roads. The settlement is due to be relocated in about 3 years' time.
During 2017 we created a Library, with after school homework support for kids, and English reading/writing lessons for those that are not taught this at school. In 2018, we obtain second hand PC's and have started computer and internet classes. 
2019 saw us into our second year of Christmas party for the children which was amazingly received. It also saw us link up with a project to fund the library which is very exciting and being built as we write.
"Education is the most powerful weapon which you can use to change the world."
Nelson Mandela
How to Help?
Account Name: REDHILL LITERACY PROJECT

Bank: FIRST NATIONAL BANK

Universal branch code: 250-655
Account Number: 62482085456
SWIFT code: FIRNZAJJXXX62482085456

NPO Address: C72 Redhill, Redhill Road, Simonstown, 7975

First National Bank address: 30 Diagonal Street Bank City Johannesburg 2000
1. Donate funds into the account
2. Find companies / individuals to support us financially
3. Kindly volunteer to participate in the homework club or buy food for the feeding scheme and deliver back to Scarborough
4. Any other experience you have to offer let us know - we would love your help
5. Looking for small projects to kickstart with the community to bring in an income for the feeding scheme eg. crochet, knitting, bookbinding, jewellery etc.. craft
6. Bring books, magazines, clothes, computers - everything is always welcome
See our projects in photos
Where is Redhill?
Redhill is an informal settlement situated 9 km from Simon's Town, Cape Town, South Africa.